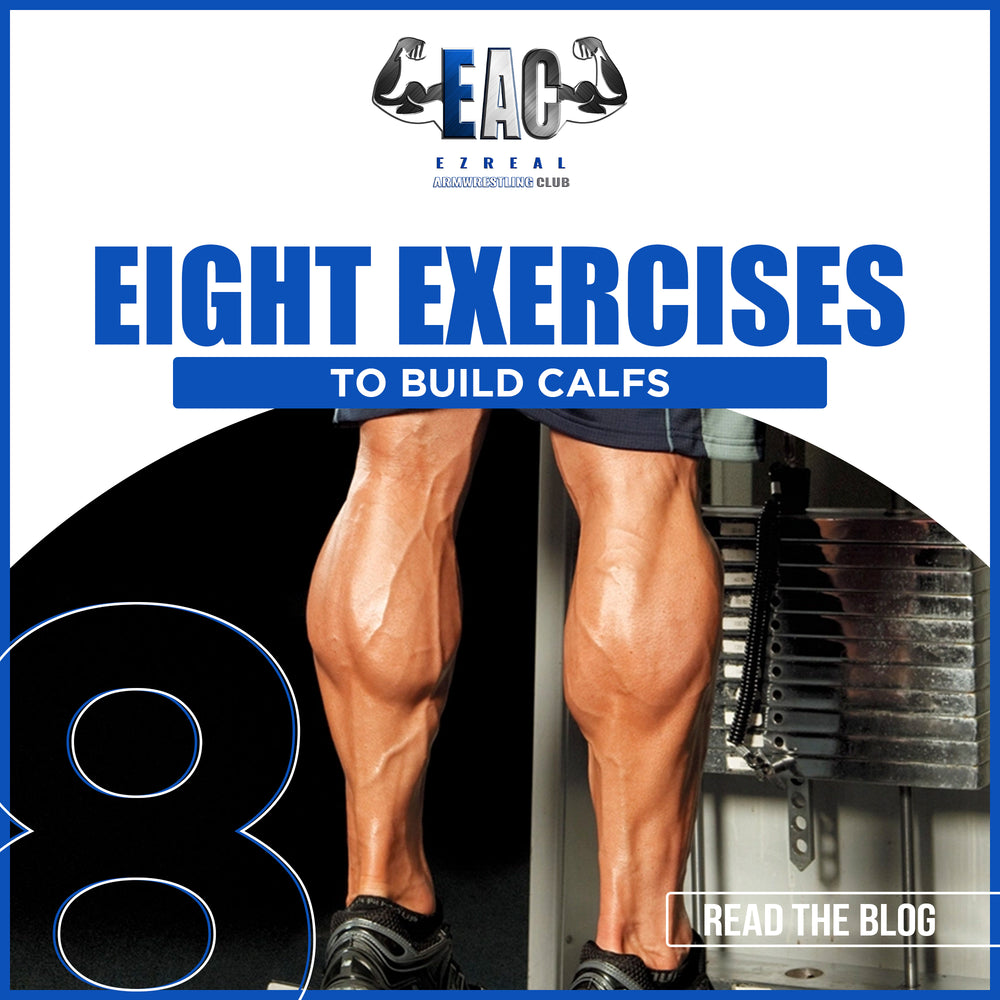 8 Exercises to Build Calfs
The Calfs
Calves are a tough muscle to grow, and quite frankly, most of us want them to grow. I am sure you've heard many lifters complain about their calf muscles and difficulty growing them. Sometimes it's simply a matter of genetics. The truth is these tricky muscles can grow if you approach your workouts the right way.
The calf is made up of two main muscles. The gastrocnemius is a lower leg muscle that sits just under the skin and makes up the bulk of the calf; and the soleus is a wide, flat muscle that starts below your knee and runs down your lower leg, connecting to the Achilles tendon above the heel. They connect the knee and ankle joint to help with knee flexion and extension so you can walk, run, and jump. (Mens Health, 2022)
Let's look at our list of best calf exercises for you to incorporate into your routine to build those calf muscles.
1. Jumping Jacks 
How to: 
How to Do it:
Stand with your feet together and arms at your sides.
Jump and spread your legs outside shoulder width as you clap your hands overhead.
Jump and return your hands and feet to the starting position.
(Mens Journal, 2022)
2. Seated Calf Raises 
How to:
Use a seated calf raise machine or sit on a bench and rest the balls of your feet on a block or step (and hold

 dumbbells

 

on your thighs for resistance).
Your knees should be bent 90 degrees and your toes turned out about 15 degrees.
Allow your heels to drift toward the floor until you feel a stretch in your calves.
Now drive the balls of your feet into the platform and raise your heels as high as possible.
(Mens Journal, 2022)
3. Ankle Mobilization
How to
Place your toes on a mat or block so they're elevated above your heels.
Bend one knee, pushing it forward so you feel a stretch in your calf.
Draw your leg back, repeat for reps, then switch legs.
(Mens Journal, 2022)
4. Jumping Calf Raise
How to:
Stand tall with feet flat on the floor and jump using only your calves.
Land softly, absorbing the force by dropping into a half squat.
Try to land quietly.
(Mens Journal, 2022)
5. Standing Calf Raises
How to:
Use a standing calf raise machine or stand on a block or step with a dumbbell in one hand while holding on to something for support with the other.
Lower your heels toward the floor until you feel a stretch in your calves.
Drive the balls of your feet into the footplate and contract your calves, raising your heels as high as possible. Control the descent on each rep.
(Men's Journal, 2022)
6. Bosu Ball Squat
How to:
Place a Bosu dome-side down.
Carefully stand on the ball and get your balance.
Slowly lower into a squat under control.  
(Men's Journal, 2022)
7. Agility Ladder
How to:
Stand at one end of an agility ladder, laid flat on the floor.
If you don't have an agility ladder, creating lines with tape or chalk on the floor is a great alternative.
Run (or hop) from one end of the agility ladder to the other.
That's one rep.
(Men's Journal, 2022)
8. Sprinting
How to:
Find a track, then do 55-, 100-, or 200-meter sprint repeats.
Focus on hitting top speed, propelling yourself by staying on your toes.
You can also work on a straight, flat stretch of road and estimate those aforementioned distances by time if you know your splits.
(Men's Journal, 2022)
8. Stair Master
How to:
While plugging away on the StairMaster might not seem like the most entertaining workout, it's a great way to develop more muscular calves, as it works the entire back of your legs.  
This site offers health, fitness, and opinionative nutritional information and is only designed for educational purposes. You should not rely on this information as a substitute, nor does it replace professional medical advice, diagnosis, or treatment. The use of any information provided on this site is solely read at your own risk. If you have any concerns or questions about your health, you should always consult with a physician or other healthcare professional.
Info for this blog was pulled from this source.