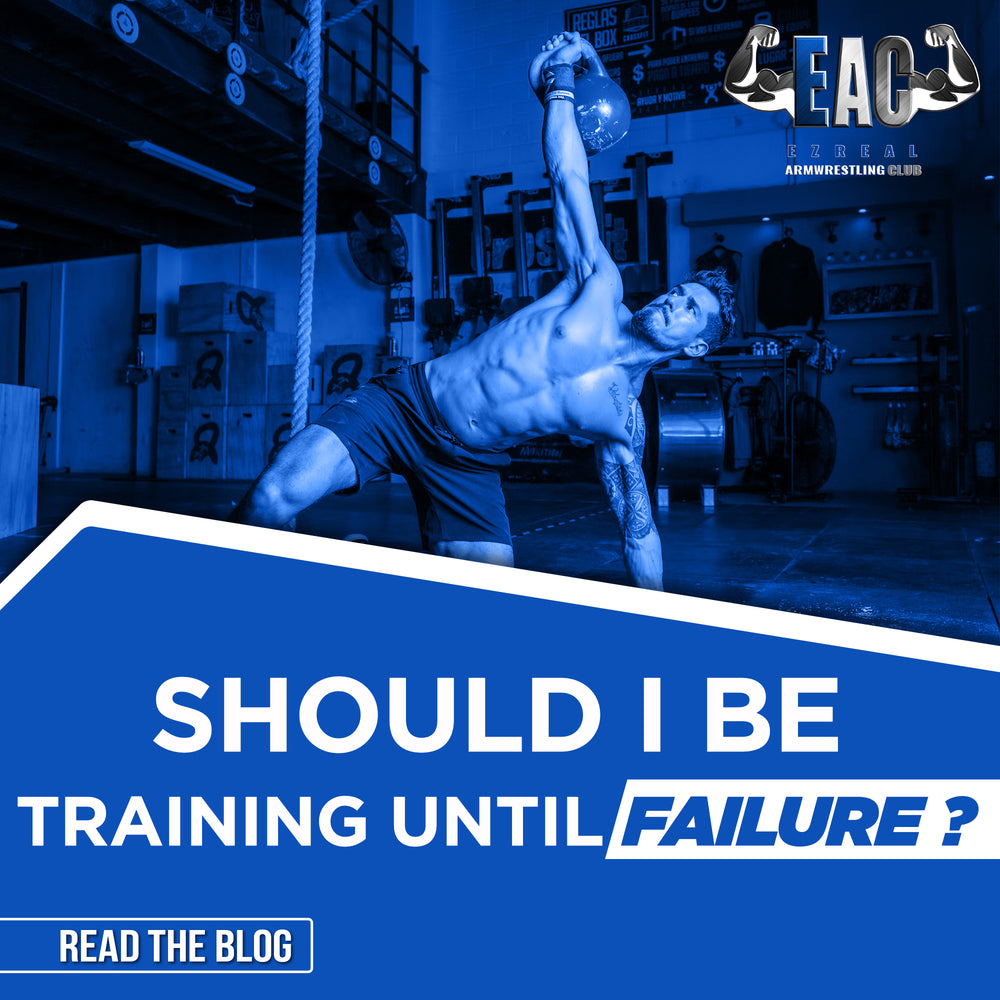 Should I Be Training Until Failure?
"Ever heard someone say, "If you're not training till failure, you won't see results."
Even though failure doesn't ever sound like a good thing, when it comes to training and weightlifting, it often can be someone's goal. Many training programs use the term, which may also be called "lifting to failure" or AMRAP—"as many reps as possible." This training strategy has both benefits and drawbacks". (Very Well Fit, 2022)
What Is Training to Failure?
"When you train to fail, you reach the point at which whatever part of your body you're working out gives out, and you cannot physically do it anymore. If doing another rep is possible, you haven't reached muscle failure." (VeryWellFit, 2022)
Pros
It may increase muscle strength and mass faster.

Can help experienced lifters break through a plateau
(VeryWellFit, 2022)
Con
It might hinder muscle growth for some people.

This can lead to using poor form.

This may lead to overtraining if done too often.
(VeryWellFit, 2022)
Benefits of Lifting to Failure
"Whether people should strength train for failure is a contentious topic. Many believe in "no pain, no gain" and think that the discomfort of the failure point is a signal of the stress on the muscle that will drive increases in strength and muscle size. But research on this needs to be more precise.
A review article from 2016 found that highly trained people experienced slightly more significant increases in muscle strength and muscle mass when lifting to failure using heavy weights compared to without loss. However, a 2017 study of active young women found that training to failure didn't provide additional gains in muscle strength and muscle mass.
Advanced trainers might use training to fail to break through a plateau. A research review from 2007 found that this strategy sometimes does help experienced lifters get to the next level of activity. This could be because when you push yourself, your body secretes muscle-building and fat-fighting hormones and recruits more muscle fibres than you would if you cut your sets short." (VeryWellFit, 2022)
Drawbacks and Risks
"There are also reasons to choose to avoid training to fail. For instance, one study found that exclusively using the technique drastically increased resting levels of the stress hormone cortisol and suppressed anabolic growth factors. This indicates that taking every set to absolute failure may hinder long-term muscle growth.
Another concern is overkill. You may overdo the workout set, and as you finish with the incorrect form, you may cause injury to your muscles. You can try to focus on the correct form rather than the number of reps till failure to avoid injury." (VeryWellFit, 2022)
When to Train to Failure
"Generally, training to failure can be painful and is not recommended for the average athlete or lifter. However, if you're building muscle and preparing yourself to compete in any sort of body-building competition, you may find training to failure beneficial.
Another option is to train for what's called technical failure. Unlike actual failure, when you can't lift that barbell and do that curl at all, technical failure is when you perform a set with the correct form on each repetition until you're unable to maintain proper form. The group set is over when you reach this point in a workout.
The difference is that the set is over, regardless of the number of prescribed reps, once you reach the point of technical failure. Resting until you can do the next stage to collapse would be best. You can manipulate the rest period between groups or the weight you lift to reach your ideal failure point.
This site offers health, fitness, and opinionative nutritional information and is only designed for educational purposes. It would be best if you did not rely on this information as a substitute, nor does it replace professional medical advice, diagnosis, or treatment. The use of any information provided on this site is solely read at your own risk. You should always consult with a physician or other healthcare professional if you have any concerns or questions about your health.  
Info for this blog was pulled from this source.