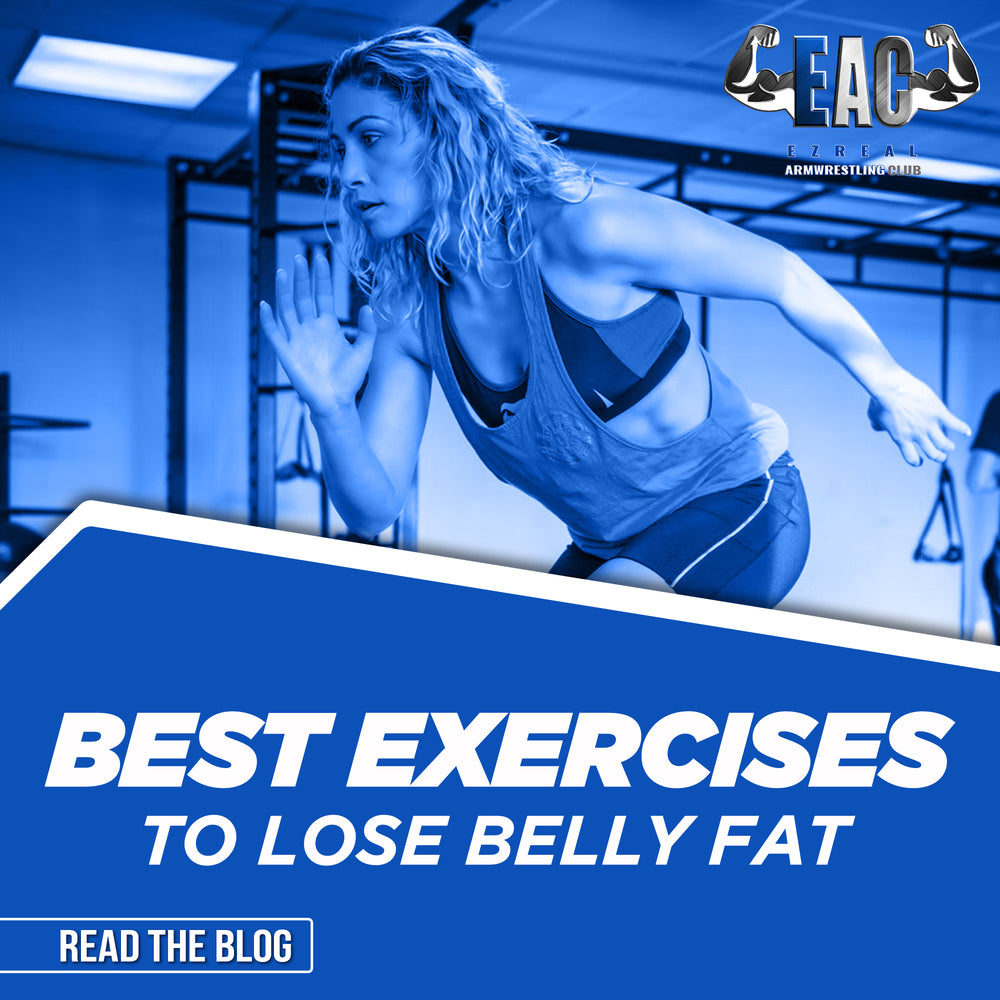 Best Exercises to Lose Belly Fat
Reducing belly fat is one of the most common fitness goals out there — who wouldn't want washboard abs, right?

In addition to being an aesthetic goal, losing belly fat is a good way to improve your overall health as excess fat in the body has been linked to conditions such as heart disease, diabetes, as well as some cancers.
This exercise works your core, as well as your chest, shoulders, lats, triceps and quads, explains Michaels. Since burpees involve explosive plyometric movement, they'll get your heart pumping too.
HOW TO:
 Stand with your feet shoulder-distance apart and send your hips back as you lower your body toward the ground in a low squat. Then, place your hands right outside of your feet and hop your feet back, allowing your chest to touch the floor. Push your hands against the floor to lift your body up into a plank and then jump your feet just outside of your hands. With your weight in your heels, jump explosively into the air with your arms overhead. (Prevention, 2021)
Mountain Climbers will work your core and in addition to a slew of other body muscles.

HOW TO:
Get into a high-plank position with your wrists directly under your shoulders. Keep your core tight, drawing your belly button in toward your spine. Drive your right knee toward your chest and then bring it back to plank. Then, drive your left knee toward your chest and bring it back. Continue to alternate sides (Prevention, 2021)
3. SIDE TO SIDE MEDICINE BALL SLAM 

"Medicine ball slams are a dynamic, explosive, and highly metabolic exercise that does not simply target one muscle group. This movement tend to work the obliques, hamstrings, quads, biceps, and shoulders are the primary movers of this exercise. 

HOW TO:
Stand with your feet about shoulder-width apart with the medicine ball on one side. Pick up the ball and simply rotate your body as you slam the ball a few inches away from your pinky toe. Make sure to pivot your feet and bend the back knee as you come into a split squat position to catch the ball on one bounce. Alternate sides. Make sure you tighten your core as you bring the ball overhead and to the side.  (Prevention, 2021)
4. OVERHEAD MEDICINE BALL SLAMS 

Overhead medicine ball slams strengthen your core as it works against gravity. This exercise also tests your endurance, getting your heart rate up each time you pick the ball up and bring it overhead. To get the most out of this exercise, be sure to use a heavy weighted ball.
HOW TO:
Standing tall with your feet hip-width apart, hold a medicine ball with both hands. Reach both arms overhead, fully extending your body. Slam the ball forward and down toward the ground. Extend your arms toward the ground as you slam and don't be afraid to bend your knees as you hinge over. Squat to pick the ball up and then stand back up. (Prevention, 2021)
The Russian twist is a core exercise that improves oblique strength and definition. The move, typically performed with a medicine ball or plate, involves rotating your torso from side to side while holding a sit-up position with your feet off the ground.
HOW TO:
Sit up tall on the floor with your knees bent and feet off the ground. Hold a medicine ball with your hands at chest height. Lean backward with a long, tall spine, holding your torso at a 45-degree angle and keeping your arms a few inches away from your chest. From here, turn your torso to the right, pause and squeeze your right oblique muscles, then turn your torso to the left and pause to squeeze your left oblique muscles. The movement should come from your ribs and not your arms. 
(Prevention, 2021)

Running at an incline rather than on a flat surface has been shown to increase total calorie burn by as much as 50 percent. Whether you're outside on a hill or at the gym on an inclined treadmill, start out walking for five to 10 minutes. (Prevention, 2021)

Not only does using a rowing machine get your heart rate way up, which helps you blast calories and burn fat, but it also works muscles in your legs, core, arms, shoulders, and back.

HOW TO: Begin with 20 seconds of rowing followed by 10 seconds of rest. Look at how many meters you traveled in that time. Repeat this eight times, trying to beat your distance each time. (Prevention, 2021)

If you've been lifting moderately heavy weights but are still looking to drop belly fat, it's time to pick up the intensity by using heavier weights and cutting down on rest time between reps. (Prevention, 2021)
Yes, you read that right. Simply walking can go a long way toward helping you shed belly fat. It seems so simple, but 45 to 60 minutes of brisk walking every day can do wonders for your metabolism. (Prevention, 2021)
10. YOGA
Doing Yoga on won't burn as many calories as a hilly run or lifting weights, but it can help build muscle and improve your endurance, which are all crucial for boosting your metabolism.
This site offers health, fitness, and nutritional opinionative information and is only designed for educational purposes. You should not rely on this information as a substitute, nor does it replace professional medical advice, diagnosis, or treatment. The use of any information provided on this site is solely read at your own risk. If you have any concerns or questions about your health, you should always consult with a physician or other healthcare professional.
Info for this blog was pulled from this trusted source.