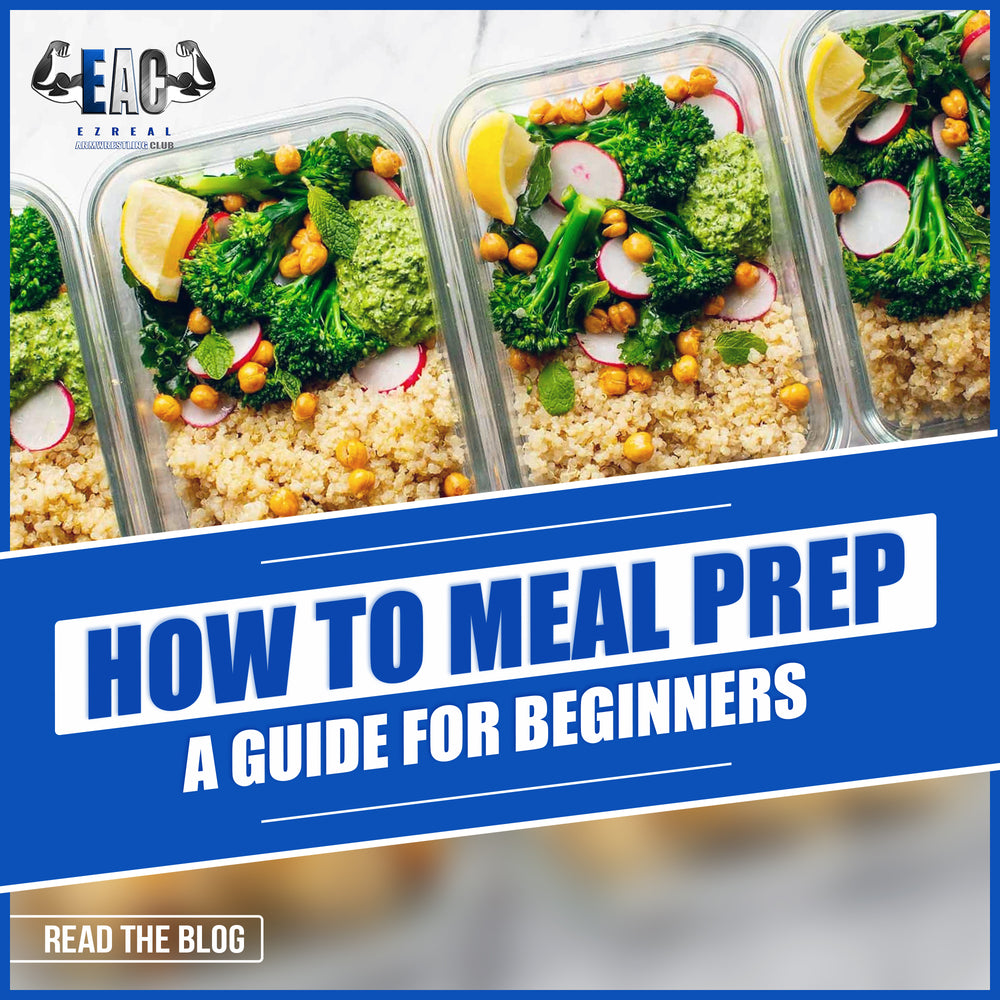 How to Meal Prep - A Guide For Beginners
Meal Prepping
Meal prep has become a massive trend for those looking to be healthy and run out of time to cook and enjoy it. Meal prep is a lot more convenient and accessible than most people think. Overall it's a great way to stay organized and stick to a specific diet.
What is it
Well, it is what it states—prepping your meals. It could be a day or even a week in advance. It is widely customizable to your needs and whatever flavour preferences you have.
While single-serve meals are the most common approach to meal prep, there are other types to choose from depending on your schedule, tastes and dietary needs.
Types of meal prep approaches include:
Full make-ahead meals: You cook an entire meal and store it in your fridge or freezer.
Batch cooking or freezing: Make multiple meals, then portion and store them. This method is helpful for recipes you can quickly cook in large batches, such as soup, quinoa or mashed sweet potatoes.
Meals for one: Prepare food and portion it in single-serving containers. (Usually enough to last a few days.)
Ingredient prep: Just prep parts of recipes for people who like to cook and serve food all at once. Chop veggies, mix spices or marinate meat in advance to save time when you're ready to cook. (Bulletproof, 2022)
WHY SHOULD YOU MEAL PREP?
Learning how to meal prep will save you time, but it also saves money and reduces waste! Unlike ordering from your favourite takeout spot, this method gives you total control over what goes in your food—this makes it easily customisable for those who track their diets. It can also be great for those who have a busy schedule and need something quick on the go.
I'm sure we've all had those days when last-minute ordering pizza seems more accessible than setting aside time to prep and cook a meal. (Bulletproof, 2022)
WHAT FOODS CAN I USE WHEN MEAL PLANNING?
You can meal prep any food that holds up well in storage and tastes palatable to you after a few days in the refrigerator.
Cooked meat, roasted vegetables, soups, sauces, nuts and sturdy raw vegetables make suitable bases for meal prep recipes. 
Keep in mind you shouldn't meal prep everything. Soft vegetables, cut fruit, and crunchy food like crackers will only get more peaceful in your refrigerator, making them less ideal choices as main ingredients for meal prepping.
If you're new to meal prep, think about how you'll reheat food. Will you only have access to a microwave at mealtime, or can you use a stovetop or oven? Consider recipes that you can enjoy cold or gently reheat, so you don't risk damaging fats and proteins in your food. If you throw your prepared meal into a microwave, consider if the ingredients will stand up to more aggressive reheating. (Bulletproof, 2022)
HOW TO MEAL PREP: FIRST STEPS
GET HIGH-QUALITY FOOD STORAGE CONTAINERS
Use quality food storage containers to keep prepared food hot (or cold). Thermal, stainless steel containers are often airtight (and leak-proof!) and can be the ideal solution for keeping food warm or chilled. They also come in a convenient variety of sizes.
You can refrigerate stainless containers ahead of time or warm them with boiling water before adding cold or hot foods to make them last even longer. Glass containers are the safest solution of all, as long as you plan on enjoying your meal cold and can handle it carefully.
CHOOSE RECIPES AND BUILD YOUR MENU
With simple recipes, decide what you'll cook for the week and schedule the days you want to enjoy your meals.
SCHEDULE TIME FOR MEAL PREP
Schedule one to two days per week to prep your meals. You can't meal prep without prep time. If you can multitask a little (use your oven and stovetop to prepare more than one food at once, for example), you'll cut down on time even more. Using a sheet pan to roast batches of food can also reduce prep time.
This is where kitchen appliances like the Instant Pot or Air fryer can come in handy, along with the tried and actual slow cooker (aka Crock-Pot). (Bulletproof, 2022)
HOW TO MEAL PREP: AVOIDING COMMON MISTAKE
KEEP MEAL PREP SIMPLE
The key to easy meal prep is to start simple. Make one-pot recipes or focus on one main dish. Avoid the temptation to spend a whole day cooking elaborate meals. Too many recipes can complicate your meal prep fast, and you may not want to do it again if it was too hard the first time. Try making just one recipe ahead of time; then meal different prep dishes when you get comfortable. (Bulletproof, 2022)
PREP BALANCED MEALS
Depending on your diet and health goals, plan meals that will keep you satisfied. It's easy to make a big bowl of chilli for lunch, but it wouldn't serve as a complete meal.
Please make sure you get enough of the right food groups to fill out your macros. A balanced meal for keto and other low-carb diets should feature quality fats, some protein and a few carbohydrates. (Bulletproof, 2022)
COOK RECIPES YOU'LL EAT
You don't need to branch out of your comfort zone if your meal prep dishes are balanced. Make recipes you'll love for beginners—anything less could result in wasted food (and wasted time).
Once meal prepping becomes second nature; you'll have at least a few go-to recipes you can turn to in a pinch. (Bulletproof, 2022)
MAKE ENOUGH FOOD
It sounds straightforward, but prepare enough food to fit your plan. Keep your schedule in mind: Events like work lunches and happy hours can interfere with mealtime. Do you genuinely need to prep a week's worth of meals or just enough for a few days at a time?
A large batch of cooked grass-fed ground beef can provide quality fats and protein for at least several meals. At the same time, you don't want to run into the issue of wasting uneaten food. So, make sure to have your schedule and portion sizes in mind when meal prepping.
The bottom line: Prepping your meals ahead of time can be a convenient way to encourage better eating habits, make a busy life easier and help you meet your overall health goals. As long as you have the right ingredients, enough storage containers and a little patience, you can create delicious, nutritious dishes in advance so you can focus your attention and effort on accomplishing everything on your to-do list. Follow these tips and avoid the all-too-common mistakes, and you'll be well on your way to becoming a meal prep pro! (Bulletproof, 2022)
Comment your fave meal prep recipes below!
This site offers health, fitness, and opinionative nutritional information and is only designed for educational purposes. It would be best if you did not rely on this information as a substitute, nor does it replace professional medical advice, diagnosis, or treatment. The use of any information provided on this site is solely read at your own risk. You should always consult with a physician or other healthcare professional if you have any concerns or questions about your health.
Info for this blog was pulled from this source.