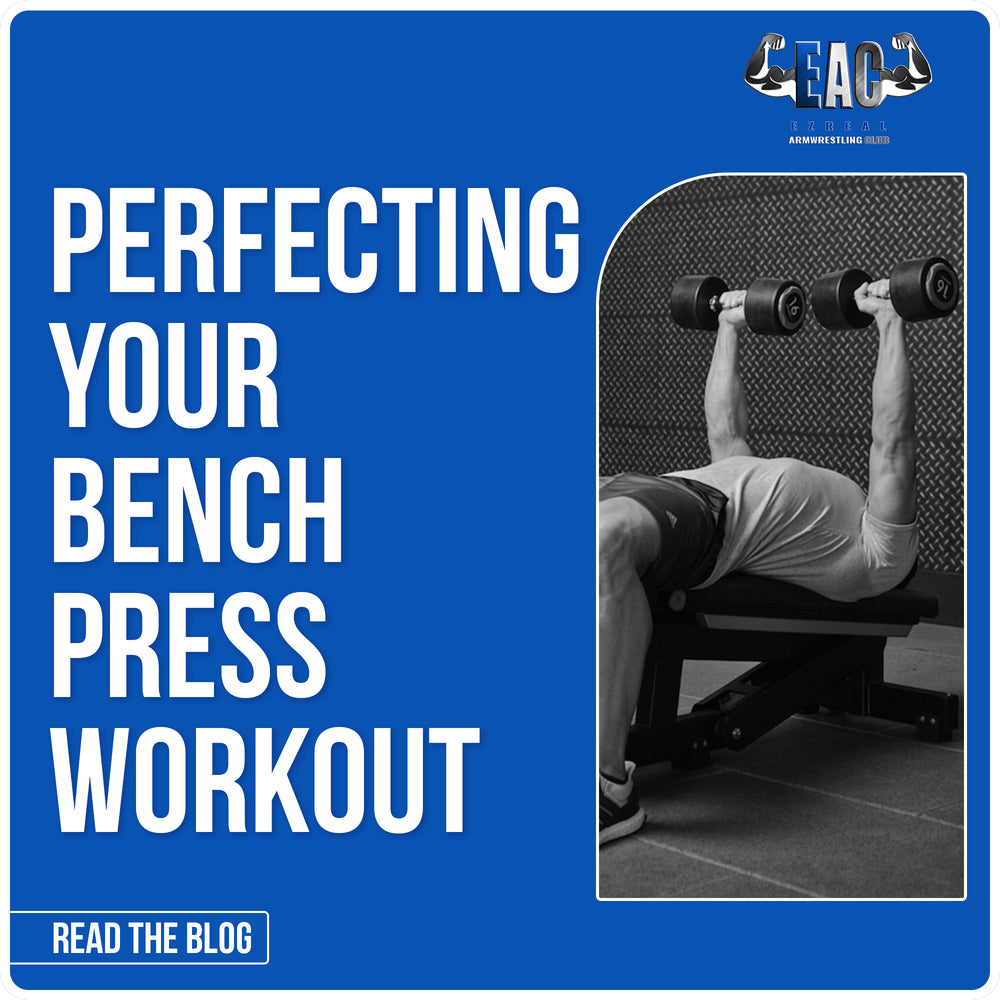 Perfecting Your Bench Press Workout
Common Bench Press Mistakes and How to Fix Them
Introduction
The bench press is a primary exercise that is crucial for many strength training routines. It is a compound movement that mainly targets the chest, shoulders, and triceps. However, despite its popularity, many individuals make common bench press errors that can impede their progress and result in injuries.
Discover these errors and find effective remedies to enhance your bench press workouts.
1. Poor Warm-up
Mistake:
Failure to warm up before bench pressing may result in muscle strains and reduced performance.
Solution:
Begin each session with a 5-10 minute cardiovascular warm-up, then proceed to dynamic stretches targeting the shoulders, chest, and triceps.
2. Incorrect Grip Width
Mistake:
Incorrect grip width can cause excessive strain on the wrists and shoulders.
Solution:
Choose a grip that is slightly wider than shoulder-width to ensure proper alignment of the joints.
3. Bouncing the Bar off the Chest
Mistake:
The bar should not bounce off your chest as it reduces muscle engagement and increases the risk of injury.
Solution:
Manage the lowering of the bar, briefly pause upon contact with your chest, and then propel it back upward.
4. Overarching the Back
Mistake:
Extreme lumbar hyperextension can result in back strain and compromised stability.
Solution:
Keep your lower back in a natural arch by activating your core muscles during the lift.
5. Lifting the Head
Mistake:
Elevating your head off the bench while lifting may cause neck strain and affect your form.
Solution:
Maintain your head position on the bench and concentrate on a specific point on the ceiling.
6. Neglecting Scapular Retraction
Mistake:
Neglecting to retract your scapulae restricts your range of motion and diminishes chest activation.
Solution:
Contract your shoulder blades while lifting the bar off the rack and sustain this posture during the exercise.
7. Ignoring Breathing Techniques
Mistake:
Unpredictable respiration can reduce stability and restrict lifting capabilities.
Solution:
Inhale deeply before each repetition, briefly retain it, and exhale while pushing the bar upward.
8. Neglecting Eccentric Contractions
Mistake:
Some individuals solely prioritize the lifting phase, disregarding the significance of the eccentric (lowering) phase.
Solution:
Manage the downward movement of the bar, prioritizing the eccentric contraction to enhance muscle activation.
9. Using Excessive Weight
Mistake:
Excessive weightlifting may jeopardize your form and result in injuries.
Solution:
Select a weight that permits you to execute the exercise with correct form for the intended number of repetitions.
10. Neglecting Variations
Mistake:
Adhering to the typical bench press could curb muscle growth and hinder progress.
Solution:
Integrate incline and decline bench presses for a comprehensive chest workout.
11. Inadequate Recovery
Mistake:
Neglecting recovery can result in overtraining and hindered progress.
Solution:
Ensure proper sleep, consume sufficient nutrients, and include rest days in your training schedule.
12. Lack of Spotter
Mistake:
Performing heavy lifts without a spotter can pose a significant risk.
Solution:
A spotter is essential for ensuring safety when lifting heavy weights.
13. Rushing Through Repetitions
Mistake:
Rapidly executing bench presses may diminish time under tension and impede muscle growth.
Solution:
Maintain precise control of each repetition, with a strong emphasis on the targeted muscle contraction.
14. Not Tracking Progress
Mistake:
Failure to monitor your lifts may impede your capacity to establish objectives and make improvements.
Solution:
Maintain a progress-tracking log to adjust workouts based on data.
15. Skipping Mobility Work
Mistake:
Failure to perform mobility exercises can result in stiffness and compromised bench press technique.
Solution:
Utilize mobility exercises to enhance joint health and increase range of motion.
Conclusion
The bench press is an excellent exercise for developing upper body strength and muscle mass. To maximize its benefits and prevent common errors, proper form, adequate warm-up, and the inclusion of various techniques in your training routine are essential.
Implement the provided solutions to address common bench press mistakes and optimize gains while minimizing risk of injury.