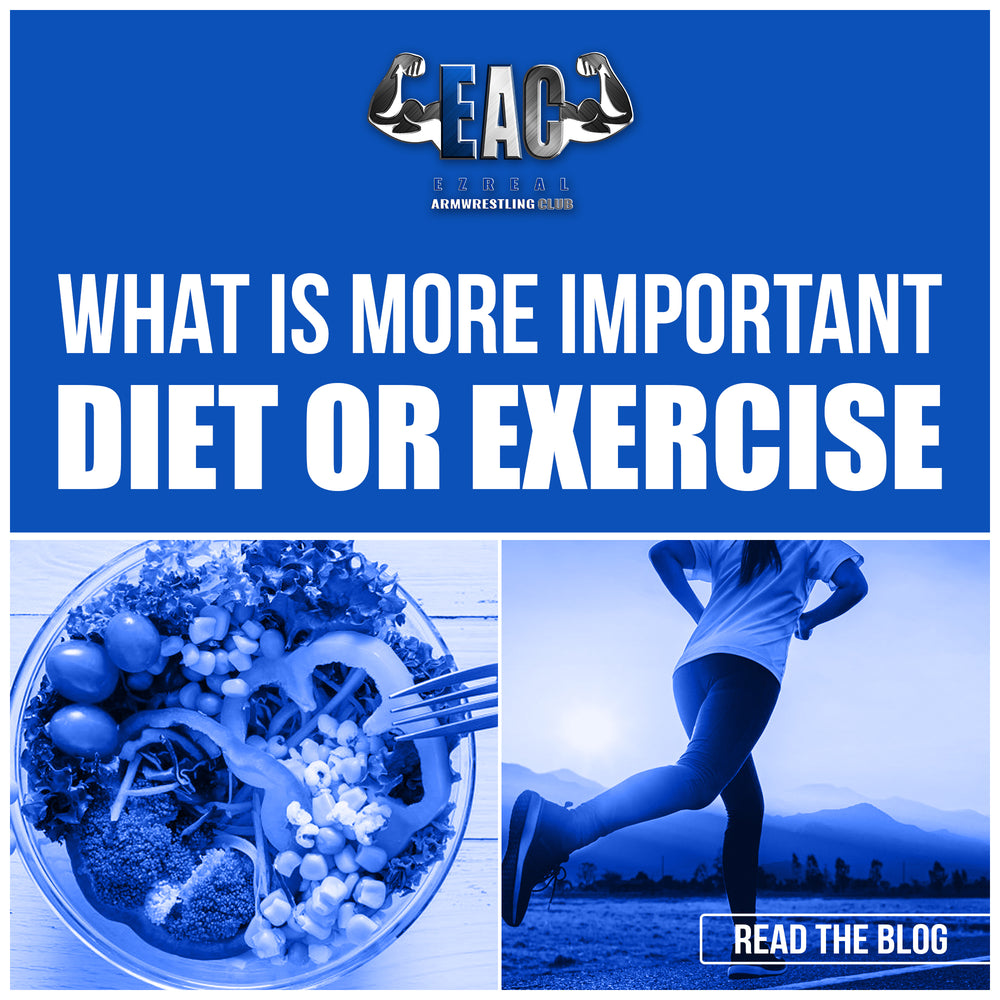 What is More Important: Diet or Exercise
It's standard for people to say if you exercise, you should also make sure you have the proper diet. These two things are known to go hand in hand.
But which is more important than the other? As we exercise, we want to focus on the essential critical aspects. Which is better for our hearts, for weight loss or muscle building?
"With endless health interventions, ranging from the 80/20 rule to exercise-free diets, it can be hard to gauge if you should prioritise diet or exercise — or if the answer lies somewhere in between.
This article tells you the benefits of exercise and diet, and if one is more important for your health than the other." (Healthline, 2022)
To lose weight, you must be in a calorie deficit, meaning your body expends more calories than you consume. This can be achieved by eating and drinking less, burning more calories from physical activity, or combining the two. (Healthline, 2022)
Benefits of diet
While diet and exercise are essential for weight loss, it's generally easier to manage your calorie intake by modifying your diet than to burn significantly more calories through exercise.
This may be why the 80/20 rule has become popular, as it states that weight loss results from 80% diet and 20% exercise.
For example, if you're aiming for a daily calorie deficit of 500 calories, you could consume 400 fewer calories (80%) by eating lower-calorie dishes, smaller portions, and fewer snacks. Then, you only need to burn 100 calories (20%) from exercise.
This is easier for many people than trying to burn 500 calories daily from exercise. Burning this many calories daily requires a significant amount of movement — plus, it's time-consuming, taxing on the body, and rarely sustainable.
An easy way to manage calorie intake and promote weight loss without counting calories is to focus on eating whole, minimally processed foods high in fibre, protein, and healthy fats. (Healthline, 2022)
Benefits of Exercise
There are many ways that exercise supports weight loss.
Strength training helps preserve and build muscle mass, which can increase your metabolic rate over time, so your body burns more calories, even at rest. Furthermore, a single strength training session can increase your metabolic rate for up to 72 hours. (Healthline, 2022)
Aerobic exercise such as walking, jogging, or cycling — especially at a low to moderate intensity for 30 minutes or longer — can burn a significant number of calories in a single session and help promote a calorie deficit(Healthline, 2022)
Regular exercise may also help manage hunger by regulating your hunger hormones. This may help prevent overeating and excess snacking. That being said, excessive exercise may increase appetite and injury risk, so moderation is best. (Healthline, 2022)
Finally, by burning extra calories and increasing your metabolic rate, regular physical activity allows you more flexibility with your diet, making weight loss more enjoyable and less restrictive. (Healthline, 2022)
Recommendation: Combination of diet and exercise
Although the 80/20 rule is helpful, you don't have to follow it precisely. Instead, focus on making positive changes to your diet and exercise routine that work for you.
For instance, you may prefer achieving your daily calorie deficit of 50% from diet and 50% from exercise. This means you'll spend more time and energy exercising — but in return, you won't need to limit your food intake as much.
The key to healthy, long-term weight loss and management is diet and exercise. Vice versa, if your goal is weight gain, then again, your 80/20 should be working at making a calorie surplus everyday along with working out. The workout should be weightlifting and less amount of cardio throughout the week as the cardio will burn off all the calories. You will still want to integrate some cardio into your weekly routine for overall health.
Ultimately, combining dietary changes and regular exercise can help you achieve more significant and sustainable weight loss in the long term. (Healthline, 2022)
SUMMARY
While managing how many calories you consume may be easier, regular exercise helps preserve lean muscle and burn additional calories. Therefore, diet and exercise are essential for weight loss, and combining the two will optimise results. (Healthline, 2022)
This site offers health, fitness, and opinionative nutritional information and is only designed for educational purposes. It would be best if you did not rely on this information as a substitute, nor does it replace professional medical advice, diagnosis, or treatment. The use of any information provided on this site is solely read at your own risk. You should always consult with a physician or other healthcare professional if you have any concerns or questions about your health.
Info for this blog was pulled from this source.